We all know that sleep is one of the most important things to maintaining good physical and mental health, but what if you just can't get to sleep because you are in pain and when you finally do, it just ends up waking you up. This is something I hear every day from clients, about how their injuries are stopping them from getting a good night's rest. Surprisingly, it is incredibly common to struggle with sleep, especially in long standing chronic pain disorders and when you are nursing a brand new injury. A recent study has estimated that 67-88% of people who have long standing pain conditions report sleep disturbances.1
The National Sleep Foundation recommends that young adults between the ages of 18 and 64 need between 7-9 hours of good quality sleep, where they wake feeling well rested in order to maintain a healthy lifestyle.2 People with better sleep tend to be more productive, have higher energy moods, better athletic performance and reduce their risk of developing inflammatory based conditions. People who don't manage to get this recommended level of sleep for long periods of time have an increased risk of developing obesity, depression, cardiovascular disease, diabetes and overall have an earlier mortality.1
Although there are many reasons that you can struggle to get to sleep and stay asleep, pain has shown to be one of them. These sleep disruptions, as a result of pain, can have implications into the next day on your level of pain and your overall general recovery from injury. Studies have shown that those who are in pain – both long and short term tend to have a flare up in their overall pain level the next day after a poor night's sleep.1 This was found in conditions such as headaches, fibromyalgia and muscular based injuries.1 It has also been found that those who had consistently disrupted sleep over a month, had on average, a higher level of pain in the following month.1 It is unclear why this is but it is thought to be a combination of factors including changes in the brain pathways that modulate pain, inflammation and the most significant thought to be negative affect.1 Those who had a poor night's sleep the night before, overall on average had a lower mood and were more heavily impacted by the experience of pain.1 In terms of recovery it was found that those who had interrupted sleep due to their pain had a worse long term prognosis for their condition.1
So what does this all mean? It means that to aid your recovery from new injuries and to help better manage your long term pain, you need to get a good night's sleep.
To help get yourself a better night's sleep, it is important to have good sleep hygiene. Some things that you can do to facilitate a better night's sleep include:
Do your daily recommended dose of exercise- if you are having trouble, chat to your Physio!
Turning off devices prior to sleep time and not allowing them in the bedroom.
If you wake in the night, not using your phone/computer or tablet.
Do your physio prescribed stretches prior to bedtime to help alleviate pain.
Ensure your sleep environment is comfortable- your physio can give you some tips on setting up a comfortable position to rest those injuries.
If your injuries are preventing you from getting a good night's rest. Book in to see one of our highly qualified physiotherapists in the Sydney CBD.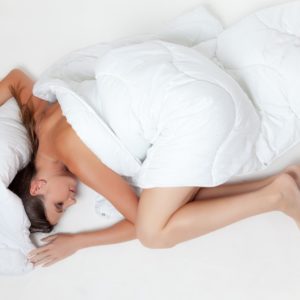 References:
Finan, P. H., Goodin, B. R., & Smith, M. T. (2013). The association of sleep and pain: an update and a path forward. The journal of pain : official journal of the American Pain Society, 14(12), 1539–1552. doi:10.1016/j.jpain.2013.08.007
Hirshkowitz, M. (2015) The National Sleep Foundation's sleep time duration recommendations: methodology and results summary. Sleep Health. doi: 10.1016/j.sleh.2014.12.010