Do you experience upper back tightness? Trouble moving your neck? Or have difficulty lifting your arms above your head?
Poor thoracic mobility, whether this be rotation or extension, can have a significant impact on the upper back, neck, and shoulders. Unfortunately, our daily habits and postures make us all very prone to poor thoracic spine mobility. This has been noticeable within the clinic within the past 18 months, with working from home and reduction of general exercise due to the COVID lock-downs, there has been an increase in neck pain, with posture and thoracic spine restriction playing their part in this.
The thoracic spine is made up of twelve vertebrae, between the cervical spine (neck) and lumbar spine (lower back).  Each thoracic vertebrae have a rib attachment, therefore there is a strong relationship between the rib-cage and the thoracic spine.
Exercises to improve thoracic mobility should be performed regularly as part of a home exercise program, below are 3 exercises that I recommend to improve thoracic mobility and posture.
Exercise 1: Foam Rolling
Foam rolling along the thoracic spine can be effective in reducing perceived tension and improving thoracic spine hypomobility. I recommend using this exercise first, as to improve thoracic extension range of motion.  Adequate thoracic extension is required to achieve thoracic rotation.
How to Perform:
Lie on your back with a foam roller perpendicular to your upper back.
Place your hands on your head to support your neck.
Exhale and allow your upper back to stretch over the foam roller.
Continue this movement rhythmically, changing the level at which the foam roller lies if you need to.
Ensure that you don't excessively rib flare, or move lower than the thoracic spine.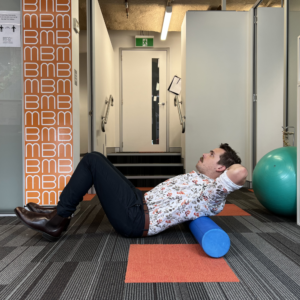 Exercise 2: Book Opener
The Book opener is one of my favourite thoracic mobility exercises, as it is effective, easy, and safe to perform. This exercise will help to improve your thoracic rotation.
How to Perform:
Lie on your side with your head supported on a pillow and your knees bent at 90 degrees.
Reach your arms out in front of you, with your hands together.
Rotate the upper arm upwards and around to the other side of the body
Try to rotate as far as you can, without forcing the shoulder.
Hold in the maximum position and deep breathe 2-3x
Perform this exercise 10x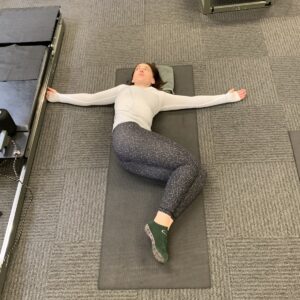 Exercise 3: Wall Angel
The final exercise is the wall angel, this exercise will require you to have good shoulder range of motion and good Pectoral Length – so this exercise may be difficult for some. If you do experience any difficulty getting into the position for this exercise, I recommend coming in for a physiotherapy assessment to assess the restriction/limitation.
How to Perform:
Stand with your back against a wall, lightly bend your knees and tilt your pelvis so that your entire back is against the wall (or at least as close as you can)
Your shoulders and head should be touching the wall.
Start with your upper arms at your side with your elbows bent at 90degrees
Your wrists and forearms should be touching the wall.
Keeping your arms against the wall, slide up towards to roof as far as you can without any of your body parts coming away from the wall.
When you reach as far as you can, slide the arms back down to the start position.
Perform this exercise 10x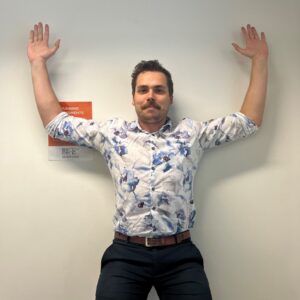 If you are finding these exercises helpful, or having difficulty getting into position to perform these exercise I highly recommend coming to see us at Bend + Mend, so that we can help improve your thoracic spine mobility and postural control.