Finger pain is one of the most common injuries climbers experience in the sport. It's hard to think of a friend who hasn't felt the horrible twinge of pain as their fingers stress underload while climbing. The pulley is by far the most common finger injury amongst climbers (see the here for some tips to manage this injury).
So, when climbers feeling finger pain while training, they usually assume they have "done a pulley" and treat it as such. But what about finger pain that isn't the pulley? Rehab aimed at the pulley won't work if that isn't the diagnoses.
An often-overlooked finger injury in climbing is pain at the joint of the finger. Often climbers will experience swelling and pain around the knuckle that comes on after climbing and can take time to settle. Left untreated they notice difficulty with bending and flexing their finger and a dull ache during small range of movement. One cause of this pain is joint synovitis. This is the thickening of the synovial cartilage between the joints of our fingers. Where our fingers bend there is a synovial joint that is lubricated by a membrane. This fluid allows the joint to move smoothly and easily into flexion and extension. If this membrane becomes thickened or inflamed the joint can look visibly puffy and ache.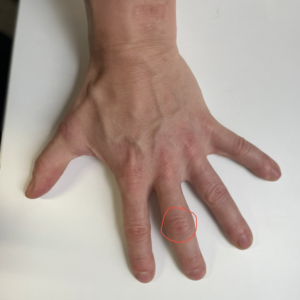 This pain and swelling can alarm young climbers whose only concern is to climb, crush and keep moving. Unfortunately, if left untreated the painful can increase, range of motion can limit and lead to impaired blood flow to the area. Over time this can lead to long lasting joint deformity.
Now for the good news. Joint synovitis can be successfully managed with rehabilitation exercises, modifications to climbing, and strengthening programs. The goal is never to stop climbing but short-term adjustments can lead to a long and healthy climbing career. If you finger is sore after climbing, don't self-diagnosis, get it checked by a Physiotherapist for a guided rehabilitation programme to get you back on the wall.