In my last blog (Pilates for Running – Part 1) I wrote about the benefits and recent evidence of incorporating a Pilates program into your running training to improve your overall running performance.
Today I am going to share a few of my favourite Pilates exercises aimed at improving running performance through improving muscle activation patterns, trunk stability and abdominal and gluteal strength.
The first exercise that I love to work on with runners is the humble lunge, which many of you will be familiar with, although this Pilates variation is very different to the ordinary lunge.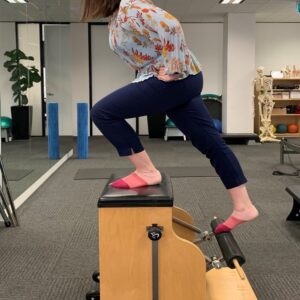 Using the Wunda Chair to perform these lunges adds an element of stability and control. You are required to push against a weight with your back leg, using your gluteals and quadriceps muscles to engage and push against resistance. In this position on the Wunda chair you are also required to control the position of your front knee to maintain your balance, which helps improve your pelvic and trunk stability in standing positions.
This translates into running as we use our gluteals and quadriceps to give us power when running while we also require trunk stability to help improve the control and efficiency of running.
The second exercise I tend to work on with potential runners is the stomach pull, focussing on engaging the oblique muscles (the sides of your abdominals).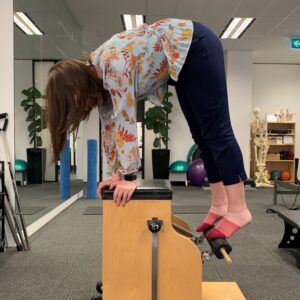 Research by Behm et al suggested that improving activation patterns of the obliques assists with the control of running and therefore running performance. The stomach pull aims to engage the lower abdominals and placing the hands to one side biases the oblique muscles on one side. Again like the lunge you are pushing against weight which adds an element of control to the exercise and helps translate into trunk stability which is crucial for improving running economics.
Finally the third exercise is side lying glutes, a staple in the Pilates repertoire, most of our Pilates clients will agree that this exercise in particular will make you feel the burn!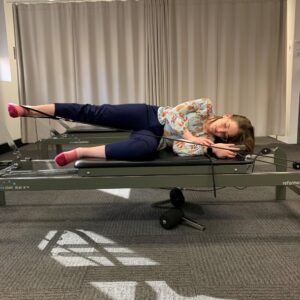 Side lying glutes is helpful in improving gluteal strength which is important for creating power to push off when running, but also helps improve hip and pelvic stability. By lying on your side and pushing against resistance it targets the gluteals to encourage them to activate and work and does not allow your body to compensate by using other muscle groups.
These are just a few of my favourite Pilates exercises for running, there are any more Pilates exercises which can be utilised to help improve running performance and here at Bend + Mend we use exercises specific to your needs to get you where you want to be.
If you are ready to get started on improving your running performance, book in to see one of our highly trained Pilates physios here in Sydney's CBD.