As we make a conscious attempt to stay at home, we find ourselves looking to start new hobbies, new exercise routines or getting into some of the home projects we have previously pushed aside.
Exercising at home can be a challenge if you are new to body weight and mat work. If you are like me and are used to feeling the strong burn after a good equipment pilates session, you may feel like you are missing out currently (unless you are lucky enough to have a reformer at home!). There are an abundance of fitness videos and apps out on the market to keep you fit, but unless you are doing the exercises correctly you might not 'feel' them in the right spots, or even worse, cause yourself an injury.
Below I have put in a few of my favourite, more challenging mat-based Pilates exercises, with a few tips to make sure you are doing them properly. These will not be suitable for everyone and it is best to check with your physio to ensure these are appropriate for you.
'The Teaser'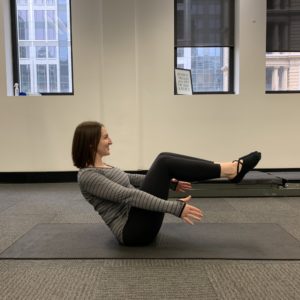 The Teaser is a well-known Pilates exercise, with multiple variations that aims to work on abdominal strength, along with trunk stability, balance and control. For those of you familiar with equipment Pilates you may recognise this exercise from your reformer, Wunda chair or trapeze work. This exercise is quite a challenge and not suitable without proper guidance for those with neck troubles.
Start flat on your back with your arms directly on the floor above your head.
Float your legs up into a tabletop position, ensuring that as you do, you engage your abdominals by drawing your pelvic bones together and keeping your spine neutral.
Bring your arms up above the shoulders and with a gentle nod of your chin, lift your shoulders off the floor. Ensure that the movement is coming from your abdominals, rather than from your neck and shoulder region.
Follow this movement through until you are balancing on your sit bones. Ensure that you are not extending through your lower back, but rather through your mid back. Hold this position for the count of three.
Roll yourself slowly back down, one vertebra at a time till you are lying back down on your back with your arms flat above your head. Repeat.
'The Hover'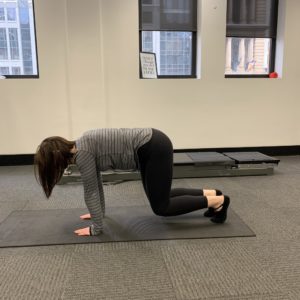 The hover is a lesser known Pilates exercise but is still as challenging as the teaser. This exercise can be used as a transition during your normal routine or can be varied for an extra challenge. The exercise aims to work on the abdominal muscles but also requires upper body control and stability.
Start on your hands and knees, ensuring that you have equal weight distribution. Bring your spine into a neutral position and relax your neck and shoulders by looking down towards the ground.
Start by slowly bringing your weight forwards onto your hands and lifting your knees off the ground. This movement should be coming from the abdominal muscles, rather than the hips or by greatly increasing the weight on your hands. Keep your neck and shoulders relaxed.
You can either hold this position with good technique for a period of 20-30 seconds or increase the challenge through extra movements. Start by lowering the knees down towards the floor, then without touching, start to draw them back up. You could even extend one leg back as you keep the other lifted and control the movement in and out if you are looking for something extra.
'Star'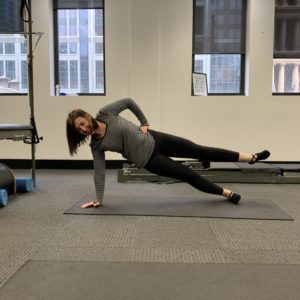 The star is a Pilates based exercise which aims to work on your obliques and sideways stability and balance. This, like the hover is a great transition exercise or can be a great challenge when varied.
Start on your side with the top leg in front of the bottom leg, and your upper body resting on your bottom arm. Ensure that you are in a line with your pelvis stacked.
Lift your bottom hip off the floor, engaging the muscles on your side as you lift up. Ensure that you keep your shoulders and neck relaxed.
If this is challenging enough, hold this position for a period of 20-30sec then slowly lower down. If you want something extra, try and lower and lift your hips to the floor and back up, otherwise lift your top leg off the floor and lower it down to challenge the balance.
Repeat on the other side with the same variation.
It is important with these and every Pilates based exercises that you have proper form and technique. If you are looking to work on your technique, starting Pilates as a new exercise routine or looking for some variation in your current routine, book in to see one of our experienced Physiotherapists in Sydney CBD in person or via telehealth.