In my previous blog I looked at why medial epicondyle tendinopathy occurs in climbers. Now we will look at at how to treat medial epicondyle tendinopathy and continue with the sport you love.
Prior to treatment it is important to have a thorough assessment by your Physiotherapist to determine the cause of elbow pain and what factors might affect your recovery. Together you and your Physio can put together a rehab program that suits your needs.
Treatment of medial epicondyle tendinopathy:
Reduce the irritating activity.
Unfortunately, "pushing through pain" can extend the injury months longer then needed. As much as it's hard to take a break, reducing the time on the wall can relieve the pain and help you manage proper rehabilitative loading through the tendon.
This does not mean stopping all together but likely reducing the intensity or duration of training. Your physio can help you understand how to warm up, decrease the load through movement, taping or a brace, and give you a timeline for returning to sport.
The most important step….TO DO YOUR REHAB.
Tendons do not get better through rest. Taking two weeks off, only to return to full force climbing is a recipe for on-going pain.
Tendons respond positively to controlled load. Isometric or eccentric loading exercise facilitates cellular adaptation and improved structural capacity of the tendon. As different flexor muscles attach to the medial elbow, you might need to adjust the angle of the weight or intensity to reproduce your symptoms. It is expected that the isometric and eccentric loading exercises will be uncomfortable at first but should settle within the rehab session.
Engaging in your rehabilitative exercises to promote tendon loading and tissue alignment is a sure-fire way to send your next V6.
Climbing Physio (Meredith) demonstrates two elbow exercises useful to put controlled load through the tendon:
3. Balance the body!
It's important to load the tendon for analgesic and strengthening benefits but we also want to engage the other muscles of the forearm to create balance (you wouldn't just use a quad extension machine to get defined legs, would you?) Strengthening the other muscles in your forearm creates balanced strength in your grip and can also improve your strength on small holds.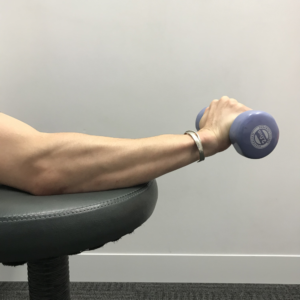 4. Warm up
It Is always exciting to get to the gym or crag and want to immediately jump on hard projects but it is important to warm up prior to training. Taking the time to do your rehab exercise, start on easy climbs and focusing on technique will help reduce pain levels, stay strong and return to sport faster. Especially when managing elbow injury, warming up increasing blood flow in the body and prepares the muscles. An ideal climbing warm up should consist of light cardio, shoulder exercises that focus on activating the rotator cuff muscles like \ rows and moving the elbow and wrist through range. A set of elbow rehab exercises prior to climbing and help reduce pain and help you continue to climb during your rehab. Of course, depending on the severity of pain and time you have had the injury, climbing with elbow pain will need to be adjusted with you and your physio.
Part three looks a little deeper into medial epicondyle tendinopathy treatment when elbow pain persists.
References:
Chang, C. Y., Torriani, M., & Huang, A. J. (2016). Rock climbing injuries: acute and chronic repetitive trauma. Current problems in diagnostic radiology, 45(3), 205-214
Peters, P. (2001). Nerve compression syndromes in sport climbers. International journal of sports medicine, 22(08), 611-617.
Tyler, T. F., Nicholas, S. J., Schmitt, B. M., Mullaney, M., & Hogan, D. E. (2014). Clinical outcomes of the addition of eccentrics for rehabilitation of previously failed treatments of golfers elbow. International Journal of Sports Physical Therapy, 9(3), 365.