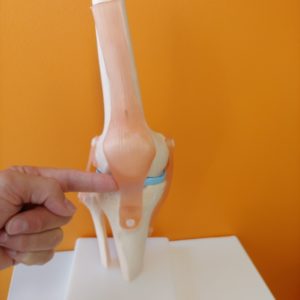 I recently completed a Physio tendinopathy course which provided up to date research in the vast and at times murky world of understanding tendinopathy. To help explain the take home messages I have summarised a few important key points.
Firstly, it is important to get an accurate diagnosis. Making sure your tendon is the source of pain is the highest priority. This is why you need an experienced Physio doing the assessment. There are some general guides to help us identify your pain as deriving from the tendon.
Generally, tendinopathy is defined by a small area of pain over the site of the injury. You can usually put your finger on it. Often you remember a change in your exercise effort a little before you got injured. For example, you started running longer distances, included high intensity efforts, or started a new activity. Most people become tender after increased effort in exercise, which would induce your familiar tendon pain. The more you load the more pain you get. If you ran longer for example you would generally get more pain after. However, this doesn't necessarily mean you feel the pain during exercise because tendinopathies warm-up well. Once you get going, they don't tend to hurt as much. Once you stop exercising however that when you feel it. Most people wake with morning stiffness, the tendon feels tight and takes some time to get going!
So, what are the general guidelines to managing these tendon injuries? To answer this question we need to recognise that there are three subgroups of people with painful tendinopathy. The majority, the minority, and the select few.
The Majority
All tendinopathies need loading. This means that exercise is good for you. How much exercise is important however. This is where we as Physios come in. There are a number of exercise protocols which are equally as good, however some patients will respond to one type of exercise while others may respond to another. Your physio will help guide you on this one!
We will help you understand what the injury is, what is going on in the tendon, and what to expect. The more you know the better! Developing realistic goals will help guide your progression.
The Minority
Some patients need adjuncts to help manage their tendinopathy. This includes soft tissue massage, taping, acupuncture, pain medication and various other measures. This subgroup of patients do not cope as well with exercise alone and need assistance to get the exercises completed. Again, we as Physio's can help with this part.
The Select Few
This subgroup is limited in number. Exercise and other adjuncts alone have not changed their pain tolerance and there is scope to consider invasive procedures like surgery or injections. It is important to stress the vast majority of patients do not need these interventions.
If you are concerned about your injury come in and see one of our Physiotherapists for a comprehensive consult at Bend + Mend in Sydney's CBD.