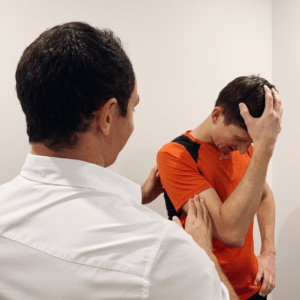 Diagnosing Concussion in sport can be challenging because:
clinical symptoms and signs can change rapidly and may evolve over time
many of the clinical features (especially symptoms) are not specific to concussion
there is no reliable test or marker for an objective diagnosis.
Therefore, the diagnosis of concussion remains a clinical decision based on assessment of a variety of factors including:
symptoms (eg. headache, difficulty concentrating, feeling like being in a fog, emotional lability, etc),
signs (eg. loss of consciousness, balance disturbance)
cognitive impairment (eg. confusion, slowed reaction times)
neurobehavioural changes (eg. irritability, feeling 'not quite right').
The majority of symptoms appear soon after a concussive incident however some symptoms can be delayed. Athletes who present with any of these symptoms after direct impact to the head or a collision (where forces may be transmitted to the brain), concussion should be suspected.
A graded symptom checklist can be useful as it covers a range of symptoms often observed following concussion and can measure the severity of symptoms. The most recent consensus statement regarding the management of concussion in sport includes a comprehensive Standardized Concussion Assessment Tool, 3rd edition (SCAT3) to facilitate assessment of athletes who have had a concussive incident. The SCAT3 includes a detailed graded symptom checklist.
When can the Athlete return safely to competition?
No athlete with a suspected/confirmed concussion should return to play (or training) on the same day as their injury. The decision of when the athlete can safely return to play following a concussive injury can be difficult to make. Current guidelines recommend that athletes should not be allowed to return to competition until complete recovery is achieved. For now, there is no single gold standard measure of brain disturbance and recovery following concussion in sport. Instead, clinicians must rely on indirect measures to best inform clinical decision making involving a comprehensive clinical approach, including:
A period of cognitive and physical rest to facilitate recovery.
Monitoring post-concussion symptoms and signs to assess recovery.
The use of neuropsychological tests to estimate recovery of cognitive function.
A graduated return to activity with monitoring for recurrence of symptoms.
If you have more questions about the right time to return to sport following injury come and see onw of our experienced Physio's at Bend + Mend in Sydney's CBD.
Reference: Makdissi M, Davis G, McCrory P, et al. Updated guidelines for the management of sports-related concussion in general practice. Volume 43.No.3.March 2014, Pages 94-99.s