End Stage rehabilitation is the best stage of rehab! It is the one you can feel the transition from general strength to highly specific exercises designed to replicated movements of your sport. This stage is sweaty, hard, and a whole lot of fun.
To learn more about Early stage Rehabilitation read my first blog on shoulder injuries in climbers here.
Throughout your shoulder rehab you and your Physiotherapist will address why the injury happened in the first place and seek out some muscular imbalances or mobility restrictions that may have contributed to the injury. Your initial exercises aim to reduce pain and increase your capacity. As your strength improves toward end stage rehab you and your Physio tie the strength gains with movements aimed to replicate the full body demands of the sport and build the shoulder capacity to comfortably preform the taxing challenges of climbing.
Climbing demands the shoulders to be able to produce maximum strength, movements under speed and end of range strength. A few exercises with a resistance band are not adequate enough to reproduce the difficulty and strength in climbing therefore your end stage rehab should look a lot like strength training.
I personally work to keep injuries at bay with some end stage rehab exercises from a previous shoulder tweak. Once the pain settled and range improved my end stage rehab was a great stepping off point for improved shoulder strength. I now use these exercises as part of an on-going warm-up prior to training.
Wide rings Y & Ws
Why theses are good: In climbing our shoulders need to be strong and stable at end of range positions. When reaching out to a hold or dynamically moving we need to be able to stabilise. The ring exercises work the shoulder in end of range movement and also incorporates the core that is much needed in climbing.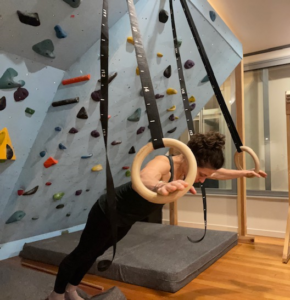 Lock Off
Why these are good: we need to be able to hold tension in our shoulders and lock off for hard moves. Off set shoulder chin ups help build stability and strength in shoulders to preform cruxy moves on step terrain.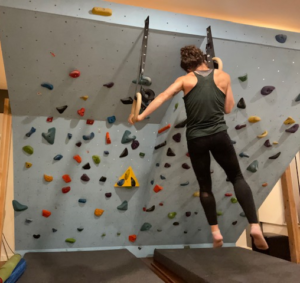 Dips
Why these are good. The ring dip is an excellent exercise to counter the constant pulling of the shoulder. Often a source of injury is muscle imbalance, the dip provides a challenging exercise for the shoulder get strong in a push position.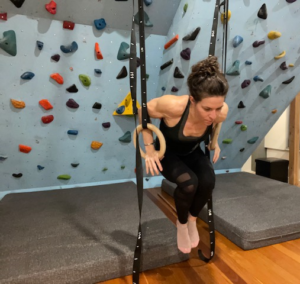 As we get closer to returning to full capacity in sport it is essential that rehabilitation and training be challenging to prepare the recovering tissue. A few rotator cuff stretches will not be enough to return you to unrestricted climbing. To return to full capacity strength is your best tool to prevent further injury.