Climbing demands a strong upper body to pull on small holds, produce power and keep tension through challenging and sometimes awkward positions. Moves like cutting feet after a dyno, pushing into a gaston, or even the notorious rose move (pictured below) puts a lot of force through the shoulders and if the body is not trained, can result in nagging shoulder pain.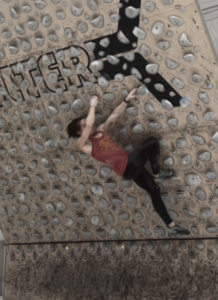 Shoulder pain makes up approximately 17% of all acute climbing injuries and 33% of chronic climbing injuries1. Unfortunately, when people simply "push through pain" it can become a chronic injury. A bit of shoulder fatigued after training is part of the process of getting strong. However, when pain persists it is a sure sign to get the shoulder checked to prevent injury and prolonged time away from training.
One of the most common injuries we see in climbers' is rotator cuff tendinopathy.
This is characterised by point tenderness over the shoulder that can occasionally radiate to the upper arm. Pain is usually aggravated with overhead movements or sleeping on the affected side. Climbers with shoulder tendinopathy might feel discomfort with certain movements while climbing and experience increased pain after a training session.
In our shoulder our rotator cuff tendons help stabilise the bone of our upper arm (the humerus) to the shoulder blade (scapula). A tendinopathy occurs when the capacity of the tendon to recover is reduced resulting in a disruption of the fibres. This results in pain during certain movements, after a training session or lying down at night2.
Tendinopathy does not improve with rest. While the pain may settle by avoiding movements when climbers return to the activity can often result in pain again. This is because the tendons tolerance to load has not improved. Shoulder tendinopathy responds best to progressive load targeting to the individual's strength, ability and goals.
One of the biggest risks to tendinopathy is overuse – an increase in load without the required strength to meet that demand. For more climbing injury risks see our blog on climbing and injury risk. This is why we see shoulder tendinopathy as a common injury in climbing as the sport has a huge upper body demand not often seen in other sports.
Early stage rehab for shoulder pain aims to restore pain free range of motion, build tendon tolerance to load and improve the shoulder ability to stabilize during movement. However, a common issue I see with rehabilitation is people start to feel better and stop doing their exercises. Their shoulder is no longer painful with certain movements so they hop back on their hard project only to experience shoulder pain again. Proper rehab should progress through your climbing and incorporate end stage rehab exercises. These exercises are demanding and reproduce the requirements of the sport. Good end stage rehab is difficult and gets your sweat on. See Part 2 for End Stage Rehab to have bullet proof shoulders.
References:
Chang CY, Torriani M, Huang AJ. Rock climbing injuries: acute and chronic repetitive trauma. Curr Probl in Diagn Radiol. 2016;45(3)205-14.
Cook J, Purdam C: Is compressive load a factor in the development of tendinopathy? British Journal of Sports Medicine. 2012, 46:163-168