If you are one of the many people who are working from home over the next few weeks you will be experiencing a change in your normal routine and for some of you that will be forgoing your normal gym, exercise or group class. But being at home is not an excuse for being inactive, there are plenty of ways to exercise at home to maintain your level of activity and prevent any sore spots or tightness!
Some emerging evidence suggests that those who remain physically active are more likely to have higher levels of immunity and are less likely to suffer from severe symptoms of influenza. In addition, it is well known that remaining physically active reduces the risk of cardiovascular disease and musculoskeletal pain and problems.
Below I have listed a few of my favourite exercises that can keep you active at home. Not all these exercises will be suitable for everyone so get in contact with your physio to find out what might be suitable for you!
The 'Book Opener'
For those of you that do Pilates this exercise will already be a staple in your repertoire, but for those of you that don't the 'book opener' is great for improving mid back mobility and is helpful for relieving some of the tightness that you can get from day to day sitting.
Lay on your right side with your knees bent into a 90/90 position and your arms resting straight out in line with your shoulder, elbows straight.
Keeping your knees anchored to the floor, bring your left arm over towards the ceiling and out towards the left side, following with your trunk and head.
Keep going until your left arm is flat on the ground and out to the side. Hold this position for 3-5 seconds and repeat 5x.
Repeat this movement on the left side.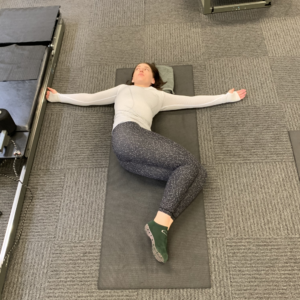 The 'Chariot'
A Pilates based exercise that can be helpful in activating and utilising the muscles of the back in between the shoulder blades. This exercise can be helpful for those of you that struggle with maintaining your posture and suffer from tightness in the neck and shoulders. (You will require a theraband for this exercise- if you don't have one 2 x 500ml water bottles will suffice.)
Tie a theraband to a door handle, ensuring that you have two straps that you can place in each hand.
Standing up tall ensure that you have your chin tucked in and your shoulder blades back and down.
Draw the two straps of the theraband back ensuring you are 'engaging' the muscles between the shoulder blades; you should feel it here.
Repeat this exercise 12x or stop if you start feeling it working in your arms rather than mid back.
The 'Clam'
The clam is another great exercise which can help build those bottom muscles and help with maintaining strength in a crucial area that is easily missed out!
Laying fully on your right side have your hips and knees bent to just short of a 90 degree position.
Open your top leg towards the sky, keeping the heels together, ensuring that you don't rotate from the trunk or hips.
Lower your leg back down to the starting position and repeat x 15 on each side.
You should feel this exercise in your bottom, if you don't, roll further onto your side and don't lift your leg as high.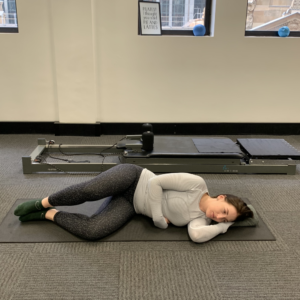 The 'Step-up'
For those of you that don't have access to a home treadmill, bike or cross trainer a good way of maintaining your cardiovascular fitness without leaving the home is the step up.
Find yourself a small step – this can be an entry way into your home, a set of stairs in your house or a small portable step that you may have near by (ensure that the step is stable and won't easily move when used).
Place your right foot up onto the step, pushing through your heel, bring yourself up onto the step.
To lower yourself down step back with your left leg, ensuring that the weight is through the foot and follow with your right.
Repeat this movement, increasing the speed as you go. To get cardiovascular benefits you will need to go to the point of fatigue – this will be different for everyone.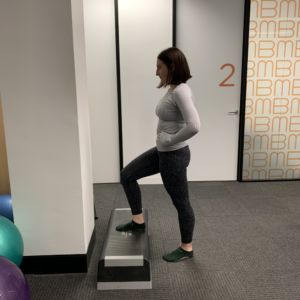 If you are stuck for ideas to keep you active at home, contact one of our fantastic Physios in Sydney CBD to find out what exercises you can be doing at home.