Our doors are still open here at Bend + Mend, but if you can't come to us, we can come to you through Telehealth, our new Physio and Pilates Online Service. This will allow you to attend your Pilates sessions or Physio Treatments during this time where many of you will be working from home. For those of you who new to Bend + Mend, or those who are unable to come into the clinic, we are here to help you.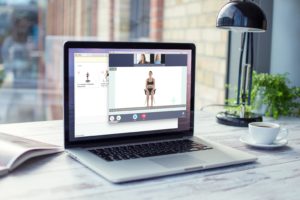 Physiotherapy Teleconsults:
This would be ideal for any of you who are wanting to seek advice and direction on any pain or injury, or for preventative management. For example, are you now sitting at home at a sub-optimal workstation and not managing to fulfill your usual exercise goals, or experiencing any neck or back pain? Your physiotherapist is here to guide you through any necessary changes to your home workstation and take you through a tailored home exercise program.
Given the recent gym closures, many of you are probably now looking for safe alternatives to maintain an adequate level of fitness through this time. Your Physiotherapist can work with you to provide a detailed training and home exercise program to help you keep fit, whilst minimising your risk of pain or injury.
What is involved in a Telehealth Physiotherapy Consultation?
1. When booking in you will be sent a link via email to guide the quick and easy set up. We book you into our diary just as if you were coming into the clinic so you have a defined appointment time. All you need is an iPad/phone/laptop with a camera and microphone and an internet connection.
2. We will ask our normal questions if you have a new injury, or about your existing injury, as part of your Initial Assessment.
3. We will assess your movements via video link and make sure you get a correct diagnosis.
4. Our Physio's will then recommend the best treatment plan for you. This may involve videos or demonstrations of exercises appropriate for your condition.
5. Follow up Teleconsults are available to progress or modify what you are doing at home and make sure you achieve your rehabilitation goals.
Pilates Teleconsults:
For those of you keen to do some Physio-led supervised exercise at home we are offering Mat Pilates sessions for individuals or small groups. Mat Pilates can be just (if not more) challenging as a whole body and core workout and also helps prevent pain while working from home. If you have previously been coming in for our Group or one-on-one sessions, this is a great alternative to help maintain the benefits that you committed your time and effort into achieving within the clinic. We are offering Telehealth Pilates sessions within your home whereby your Physiotherapist can take you through an individualised home Pilates program and advance this over time.
If you do have the opportunity to come into the clinic (even the one time), your Physiotherapist can devise your Home Program in person then monitor and progress it via our Telehealth service. If you are not able to come to us, then we can do it all via Telehealth. Contact us to book in your Telehealth consult so we can help you stay healthy through this extraordinary time.