According to the Continence Foundation of Australia, over half of all women who have given birth experience some degree of organ prolapse. One in five women who have a prolapse will need to seek medical help as is it can have significant impact on their lives. Refer to our other women's health blog for more information on prolapse.
Management of prolapse can vary and some believe the only treatment is surgical intervention. Unfortunately, surgery has received some negative attention recently due to the Australian women's health class action lawsuit. Women who had undergone surgery experienced pain, difficulty urinating and long-lasting side effects following surgery for organ prolapse. Although most surgeons are now avoiding using mesh implants many women are looking for options to avoid an invasive procedure.
One of these options is the use of a pessary.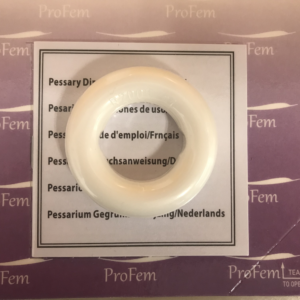 This silicon prosthetic device is inserted into the vagina to help lift the organs and provide support to the walls of the vagina. It is fitted by a trained Women's Health Physiotherapist who will size your pessary to fit correctly, sit comfortably in place and be suited for your specific needs.
There are two main types of pessary: support, and space filling. The support pessary helps lift the organ prolapse, where the space filling is flatter and occupies the space that is dropping down in the vaginal canal.
Once the pessary is fitted correctly you should be able to walk, run, and exercise with out the pessary moving but small enough that you don't feel it once it's in place. Your Women's Health Physio will teach you how to insert, remove and clean the pessary yourself. In a follow up appointment, we check how the pessary is working, address any questions and ensure there is no irritation on the vaginal wall from pessary.
If you are comfortable removing the pessary yourself, you can remove it once or twice a week to clean and rinse before replacing. Some women opt to use the pessary intermittently such as only while running and remove it while sleeping or for intercourse. But if you are not comfortable removing the pessary yourself you can set up visits to have the pessary cleaned and changed with your women's health physiotherapist depending on your needs.
Most women report prolapse symptoms are relieved by a correctly fitting pessary. Research shows a 92% satisfaction at two months following pessary fitting (Clemons et al 2004) After a two month follow up with success, most women will continue to use the pessary for symptom control long term. If you have concerns about incontinence or prolapse book in today for more information on how a pessary might suit you.
Our Women's Health Physio, Meredith, has completed extra training in pessary fitting for women with different stages of prolapse. Meredith works at our Bend + Mend Martin Place clinic in Sydney's CBD.
Book a Women's Health appointment to discuss your concerns and treatment options.
References:
Clemons JL, Aguilar VC, Tillinghast TA, Jackson ND, Myers DL. Patient satisfaction and changes in prolapse and urinary symptoms in women who were fitted successfully with a pessary for pelvic organ prolapse. Am J Obstet Gynecol. 2004;190:1025-1029.