The glenohumeral (shoulder) joint permits the greatest range of motion of all the joints in the human body. To get this extra motion the anatomical structure of the shoulder must favour mobility over stability. Stability is achieved by two means: Passive stability – bony congruence and ligaments, and dynamic stability – muscles.
Glenohumeral joint dislocation (GHD) affects 2% of the general population and accounts for 45% of all dislocations. The most common complication is recurrent dislocation occurring in 17-96% of patients.
The majority of patients are treated conservatively by closed reduction (when the treating practitioner pops your shoulder back into place) and immobilised in a sling from 1-3 weeks.
The main cause of GHD is trauma – The two major groups affected are:
Young men as a result of a high energy sport related trauma
Elderly women caused by a low energy fall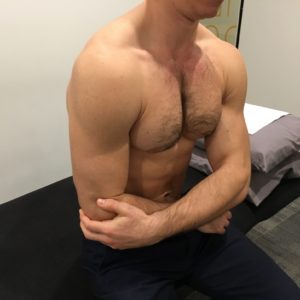 Dislocations can occur in different directions depending on the mechanism of injury, the most common being an anterior dislocation which accounts for over 95% of GHD. This usually happens by a forceful external rotation when the shoulder is in abduction (think of the position you would throw a ball). This commonly leads to three associated injuries:
Bankart lesion: Injury to the glenoid labrum (a soft tissue structure responsible for increased shoulder stability)
Bony Bankart lesion: An associated fracture of the glenoid rim (the bony 'socket' of the shoulder joint)
Hill-Sachs lesion: A compression fracture of the humeral head (the 'ball' of the shoulder joint)
The above three associated injuries often occur in conjunction with one another and increase the risk of recurrent dislocation and shoulder instability.
Patients age during initial dislocation greatly increases the risk of recurrent dislocations.
72-95% recurrence in patients <20 years
70-82% recurrence in patients 20-30 years
14-22% in patients >50 years
Due to these high numbers of recurrent dislocations in a younger population, surgical intervention is recommended for those <30 years who are engaged in highly demanding physical activities. Early surgical repair in young patients aged 15-25 years should be the treatment of choice because it reduces recurrence rates from 80-90% to 3-15% and improves overall quality of life. An initial trial of non-operative management in patients aged 25-40 years is reasonable because their risk of re-dislocation is much lower 20-30%. Patients >40 years should be managed non-operatively due to a low recurrence rate of 10-15%.
If you have a shoulder complaint come and book into Bend + Mend in Sydney's CBD and speak with one of our experienced Sports Physio's who can talk you though the best options for treatment.