Did you know that the correct placement of your keyboard can help reduce neck and arm symptoms and disorders? (Kroemer & Grandjean, 1997). Having a good workplace set-up is vital in managing workplace injuries and it can also help prevent them from occurring. Setting your keyboard up correctly is quite simple, but many of us still have an incorrect keyboard placement and angle. Below are a few basics regarding set-up:
Chair Height:
Your elbows should be positioned at approximately 90° or just above the height of the desk.
Your chair should be positioned at a height that allows this to occur, with your wrists in a neutral position.
Keyboard Position:
Your keyboard should be 10-25cm from the edge of your desk (left), as a space of <10cm doesn't provide enough forearm support which increases muscle activation of neck and upper trapezius (centre). Having a gap >25-30cm encourages reaching, which can lead to neck and shoulder injuries and pain (right).
Keyboard tilt:
Your keyboard tilt should allow the wrists to be in a neutral position. The kickstand may need to be raised or lowered to achieve this.
There are also various types of keyboards:
Short Keyboard
Recommended for workers who find that they are reaching constantly due to the length of a normal keyboard. They may also be experiencing wrist, neck or shoulder pain.
The use of a shorter keyboard allows the wrists to be in a neutral and supported position. There is also less over-activity through your neck and upper back when compared to a standard keyboard.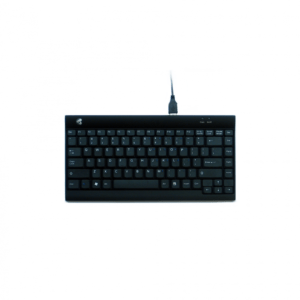 Short keyboard with additional numerical pad
Recommended for workers who use a numeric pad regularly throughout the day, e.g. accountants. Ideally the numeric pad would not be attached to the keyboard and could be moved out of the way when not in use. There is also the option to place the numeric pad on the left-hand side to distribute the load between left and right hand activities.

Split keyboard
Recommended for workers whose wrists are excessively angled away from middle of the keyboard when typing, i.e. their fingers are pointing towards the top corners of the keyboard. These individuals often have wrist pain. A split keyboard allows a more neutral position of the wrist.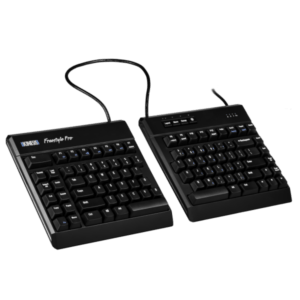 What about wrist rests in front of the keyboard?
These are best used for short breaks, but should not be used while typing. There a a few concerns with wrist rests, including:
Increased pressure on wrist from external pressure of the rest;
Increased lateral deviation of wrist; and
Increased mechanical friction of the tendons through the wrist (Brennan & Williams 2019).
Recent research suggests that there is more benefit from forearm support whilst typing compared to the use of a wrist rest.
If you have any questions or if you would like to enquire about booking an individual or group Ergonomic Workplace Assessment, please contact us here at Bend + Mend in Sydney's CBD.
The above pictures of equipment were obtained through seated.com.au and the above information was gathered from the sources below and from a recent course 'Office Ergonomic Workstation Setup Training for Allied Heath Professionals' by Corporate Work Health Australia.
Brennan, W. & Williams, H. (2019) Office Ergonomic Workstation Setup Training for Allied Health Professionals. Corporate Work Health Australia
Kroemer, K. & Grandjean, E. (1997). Fitting the Task to the Human (5th ed). London. Taylor & Francis
Onyebeke, L. Young, J. Trudea, M., & Dennerlein, J. (2014). Effects of forearm support and palm support on the upper extremity during computer mouse use. Applied Ergonomics, 45(3), 564-570. doi: 10.1016/j.apergo.2013.07.016