With more and more people working from home, the importance of a good home desk set-up is continually increasing.
Sit-stand desks are an excellent tool for allowing regular posture changes and minimising the impact of sustained postures. Many workplaces offer sit-stand desks but unfortunately most employees do not have a sit-stand set-up at home.
There are various sit-stand desks on the market and it can be confusing to decide what type of desk is best suited for you. To add to the confusion, each style and design comes with a different price-tag.
Ideally the sit-stand desk you choose should have the following:
Vertical lift – a desk that lifts vertically to avoid the need to bend over and lift the desk.
Automatic – would be preferable over a manual sit-stand desk to avoid straining.
The same principles apply of set-up if you have a sitting desk or standing desk. See my previous blog 'Standing Ergonomics' for details.
However, below we will discuss various options to create a sit-stand desk at home, regardless of your budget.
'Makeshift' Sit-Stand Desk:
Using a bench or table to create a standing desk. A laptop would be more suitable to create this type of sit-stand desk as it is more portable and easier to manoeuvre than a desktop.
Find a bench or table where the height of the bench allows you to be standing with your elbows at 90 degrees.
Raise laptop on a laptop stand or books/raise to where the top 1/3 of your screen is at eye level. As the laptop will be raised from bench height, you will need an additional keyboard and mouse to place on the bench.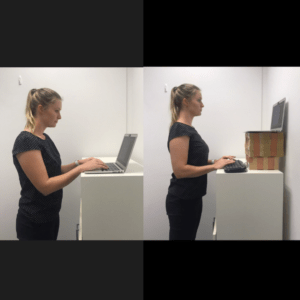 Sit on Top Sit-Stand Desk:
Sit on top desks are a great at-home option. They are easily clamped to your existing desk or can sit on top of your desk. These desk are often slightly cheaper than complete sit-stand desks but reduce the amount of workspace available due to their size.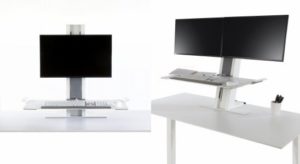 Complete Sit-Stand Desk:
A complete sit-stand desk moves the entire work surface into a standing position. Great for anyone who needs a large amount of desk space, however is often more expensive than the previous two options.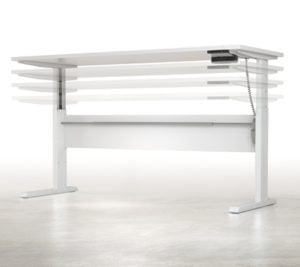 The above images were sourced from Seated, a Sydney based ergonomic equipment and seating company. Below are a few helpful blogs discussing and comparing their sit-stand desk range.
Choosing an electric sit to stand desk
Choosing a sit stand desk – what is the right option for me
If you have any questions regarding your at-home set-up please feel free to contact us at Bend + Mend in Sydney's CBD. We are able to provide on-site office ergonomic assessments and equipment suggestions.