We as Physio's are always suggesting that people get up out of there chair, change their posture and do anything they can to get moving. But with the end of the year fast approaching, the work starts to pile up and it gets harder and harder to find the time to fit exercise in and it gets placed in the 'to-do' pile. However it is incredibly important that you get some movement and exercise into your day to help limit your inactivity and reduce your chance of development of a range of conditions including obesity, diabetes and cardiovascular disease. Whenever I am suggesting an exercise, I try to get a little bit creative and think of some ways that it can be incorporated into the everyday. Here are a few of my favourite desk exercises to keep you active through the Christmas season!
Before trying these exercises please check with your Physio to ensure that they are appropriate for you.
Seated Gluteal stretches.
Sitting in an office chair.
Place your left ankle on the right knee.
Lean forward and you should feel a stretch in the left side of your bottom.
Hold for 30 seconds and repeat on both sides.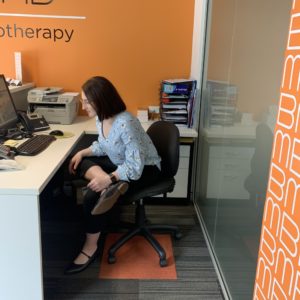 Seated upper trapezius stretches.
Sitting in an office chair.
Sit on your left hand, keeping your right hand on your lap.
Draw your chin down to your chest.
Keeping your chin down drop your right ear down to your right shoulder.
Hold for 30 seconds and repeat on both sides.
Seated bicep curls
Sitting upright in your office chair, feet flat on the floor.
Using a water bottle as a weight (1L water bottle = 1kg weight)
Keep your wrist in a neutral position and bring the bottle up towards your chest.
Control the descent of the bottle back down to your lap, stopping just before the bottle reaches your lap.
Complete between 10-15 each day on each arm.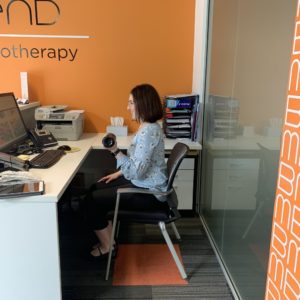 Sit to stand squats
Stand up from your chair.
Keep your feet shoulder width apart.
Stick your bottom down like you are about to sit on the chair, leaning forward so that your nose is over your toes.
Slowly lower yourself down without using your hands, then stop just before actually sitting down.
Then bring yourself up to standing.
If this is too easy, try holding the squat, hovering above the chair for 30sec to 1min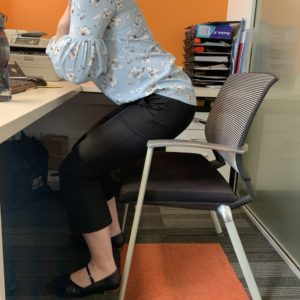 Seated calf raises
Using a stack of paper/a book/files that you have nearby.
Sitting over the edge of the chair with your feet flat on the floor, shoulder width apart.
Raise yourself up onto your toes while remaining seated.
Slowly lower your heels back down to the ground.
If this is too easy, try keeping the weight over one leg, and completing single leg heel raises.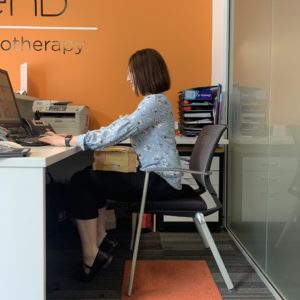 There are plenty more exercises out there that you can try in your desk space, it is just about being as creative as possible to fit these into your day!
If you need help getting active or incorporating your physio exercises into your day, book in and see one of our fantastic physios at Bend + Mend in Sydney's CBD.