Well, we made it! 20 years open on the 1st of August 2023! Ever since our humble beginnings in one room in a gym in the old GPO at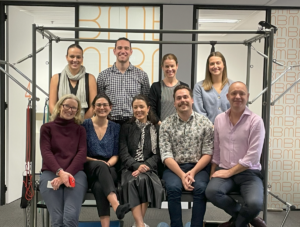 1 Martin Place called The Health Club, we have always looked at our practice like a family. We always wanted a place similar to the bar "Cheers"! Where "everybody knows your name".
We love our job. Physiotherapy is a profession where you can really get to know people. We have patients who have been with us from the very beginning.
We started our practice in a room in a gym in Martin Place Where we met lots of people and started our first little family. From there we expanded across Martin Place to number 14. That's when we started our Pilates and another family was formed. We have now had the privilege of seeing thousands of patients in the CBD and some have become lifelong friends of Bend + Mend.
Thank you to everyone for your support over the years. We are proud to have been able to treat all those people who have presented to our clinic, whether it was after surgery, to avoid surgery, treating weekend warrior sport or pain from too much sitting! Yes, you can get pain from doing nothing!
We love doing what we do and hope to continue on Bend + Mend for another 20 years and maybe start treating the grandchildren of our original patients! Now that's definitely a family!